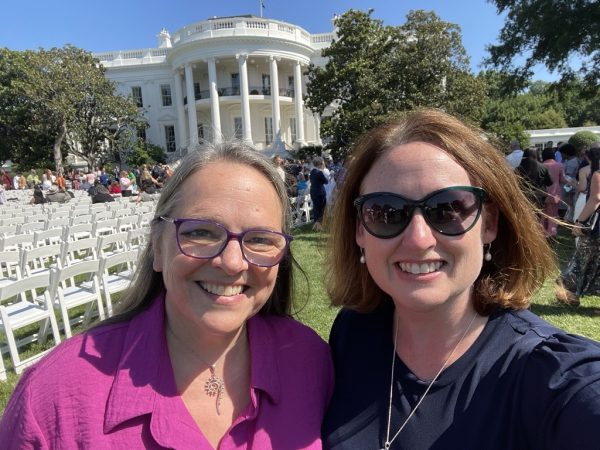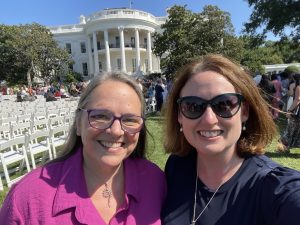 On July 11, MCEDV's Francine Garland Stark and Andrea Mancuso joined other state domestic violence coalitions at the White House, alongside survivors of gun violence and family members of those killed by firearms, to recognize passage of the Bipartisan Safer Communities Act.
The Bipartisan Safer Communities Act is the first substantial federal legislation in decades addressing gun violence in the United States. The new law expands background checks for people under age 21, allocates resources to implement mental health treatment and red-flag laws, and strengthens penalties for gun trafficking.
It also partially closes the so-called "boyfriend loophole," long a focus of domestic violence advocates. The loophole allowed abusive dating partners who'd never married or lived with their victims to escape the legal prohibitions on firearms possession that apply to married and co-habitating partners when they are convicted of certain domestic violence crimes or are subject to certain court orders.
Although federal laws have long recognized that people who commit domestic violence are dangerous and that ready access to firearms increases risk to those involved, the exclusion of dating partners has meant that many people who abuse have been able to keep their weapons. Stark, MCEDV's Executive Director, notes that Maine law has long included dating partners in prohibiting abusive people from possessing firearms and is glad to see the same provision adopted in federal law.
Stark, who has been working in the anti-domestic violence movement for over 30 years, recognizes that the Bipartisan Safer Communities Act falls short of what many hoped for, but she believes movements should still celebrate partial wins along the way to accomplishing the greater mission.
"Like most state and federal legislation, this law was minimized in scope and impact by compromise, but it is important to celebrate tangible change, even when it is incremental," she says. "We should all be determined to make this country a safe place for children and everyone else, and separating people who demonstrate that they are dangerous to themselves and others from firearms is in everyone's best interest."
Passing new laws is but one part of a public policy approach to gun violence and domestic abuse. Just as important is how those laws are implemented. The Maine Commission on Domestic and Sexual Abuse has dived deeply into the practical challenges in enforcing laws that prohibit people who abuse from having firearms, and MCEDV has provided leadership in recent multidisciplinary efforts to strengthen Maine's approach.
"Having a law on the books is one thing," Stark notes. "But making sure that there is a process in place that provides clear direction to law enforcement and courts, that allows different parts of the system to communicate, and that accounts for differences in rural and more populous settings – that is a different set of work altogether, and it continues long after the law is passed."